Several of our buildings have spaces that can be hired for corporate events, which are called MEETING PLACE.
We provide innovative, sustainable, safe, accessible and high-quality venues to companies so that they can ensure their corporate events are a success.
Gmp's MEETING PLACEs encompass meeting rooms, auditoriums and outdoor terraces, which provide cutting-edge technology and a full range of services for any type of celebration: company meetings, product presentations, showrooms, team building sessions, press conferences, courses, seminars, conferences… Gmp has four prime locations in Madrid where companies can organise events.
Orense 34: the ideal building for corporate events in Madrid's business centre
The MEETING PLACE located in the Orense 34 building,
in the heart of the business centre of the capital, is a unique space for holding corporate events, comprising an auditorium with capacity for 183 people and fully folding seats, an anteroom reception and cocktail reception. Its strategic location means it is well-communicated, with good public transport connections.
The auditorium at this MEETING PLACE is complemented by seven well-equipped modular meeting rooms where the capacity varies according to the layout.
The MEETING PLACE in Orense 34 stands out for its multipurpose design and cutting-edge technology. An innovative space with carefully selected materials, functional furniture, excellent acoustics and a HVAC system and lighting that ensure full user comfort.
Visit this space virtually:
Castellana 81: an iconic building in Azca for events or meetings
The MEETING PLACE at Castellana 81 is located in the iconic building of the same name, Castellana 81. A masterpiece by architect Sáenz de Oiza, it enjoys a privileged location on the Paseo de la Castellana and is a landmark in the urban landscape of modern Madrid. Castellana 81 is located at the heart of the Azca financial hub and has excellent communications and connections with the rest of the city.
This MEETING PLACE, equipped with the latest technology, consists of an auditorium seating 188 people, an adjoining reception and cocktail area and seven meeting rooms with varying capacities depending on the layout.
Its design combines functional aspects and state-of-the-art technology, ensuring optimal acoustics, a hearing loop system and easy access for people with reduced mobility. A fully accessible and inclusive venue to hold congresses, conventions, courses, seminars, press conferences, product presentations or business meetings.
Visit this space virtually: 
Luchana 23: modular meeting rooms in the Chamberí district
The MEETING PLACE at Luchana 23 is a unique space to host corporate events, strategically located at the heart of the Chamberí district. This MEETING PLACE consists of two modular meeting rooms that can be joined into a single space, thereby adjusting to the specific needs of the company planning an event.
Spacious, bright and welcoming, following an industrial design, the meeting rooms at Luchana 23 are the ideal venue to host all kinds of celebrations. The building also boasts excellent connections to the city's transport network.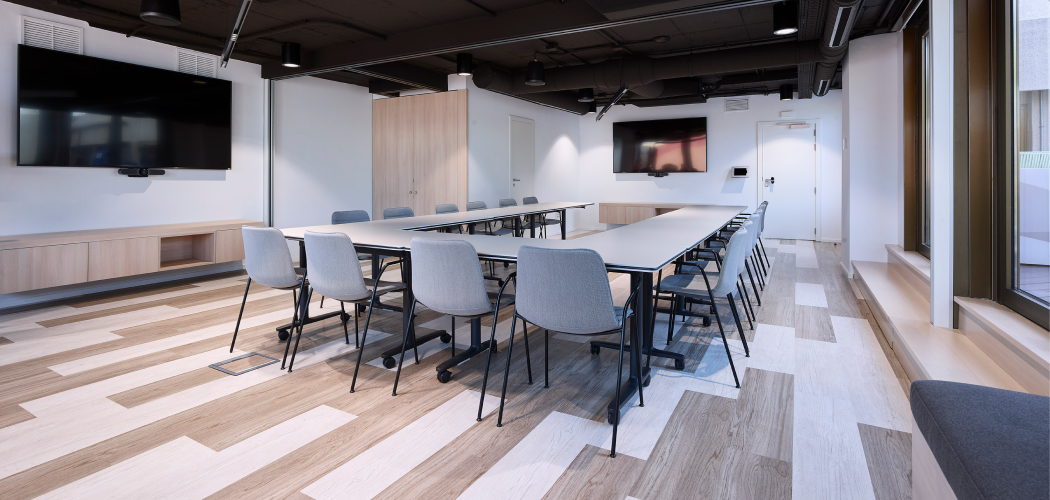 Parque Norte: organize your event or meeting in north Madrid
Our Parque Norte business park is located at number 56 Serrano Galvache, where the fourth of our MEETING PLACEs is located. It is very close to Chamartín train station, at the intersection of calle Arturo Soria and Avenida de San Luis.
This MEETING PLACE consists of three modular meeting rooms with different layouts available.
These rooms are complemented by a unique outdoor space: the Ágora terrace. An informal, relaxed environment for exclusive corporate events.
For more information, to check availability and bookings, please consult our MEETING PLACE website. Finally, don't miss our latest news! Follow us on the MEETING PLACE LinkedIn.